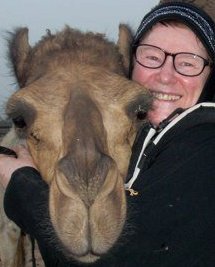 This blog began with a significant "starting over" – a 6 month stay in the Kingdom of Saudi Arabia after retirement from UNLV. That makes the 5th country on the 4th continent I have lived in: South Africa, England, Canada, the United States and Saudi Arabia.
I started my blog with a quick flashback to explain how this all came about, then (insha' Allah) I was going to post regular entries to chronicle my new life in what was, for me, a very new and different society. That mostly didn't happen when I discovered just how much trouble you can get into making posts that could be construed as critical of ANYTHING in Saudi!
"Thank you" to my family for their unfailing support in all my "startings over!" They just keep coming . . .
Click on the "Blog" button above to go to my blog postings.
GENEALOGY
I have decided to also include on this site the results of some of my genealogical research – to make it available to other researchers, and maybe find some help to fill in some of my blanks. Building my family tree has been helped by a subscription to Ancestry.com where I maintain trees for my father and my mother, and, it turns out, a lot of other people – it is just so much FUN building trees. I have also found – and been found by – a lot of cousins I didn't know I had – and a son who found me through this site 57 years after I was forced to give him up for adoption!.
Please leave a comment if you would like to connect or to access my public Ancestry.com trees. My username on Ancestry.com is DrMauri
PHOTOS
No doubt I will also add photo galleries from my travels – and you will also find updates and my pictures on Facebook at http://www.facebook.com/ms.mauri.collins
CONTACT INFO
Email me at drmauricollins@gmail.com or through the contact form on this site.